Sweet Tooth!

If it's not obvious yet, let me tell you right now that I have the biggest sweet tooth! It really aches when I'm home alone and the kitchen is mine for the taking. This amazing Cinnamon Keto Granola is the result of a lonely, guilt ridden night. It was around 930pm and I had already made two different single serve mug cakes before I came across a hot keto cereal recipe. Another thing you should know about me is that I LOVE CEREAL so when I came across this recipe I had hit the keto jackpot (the recipe can be found at Low Carb Lovelies). Obviously, I made the cereal, and with a tummy full of warm cream and keto friendly ingredients I passed out like a baby. All the while Matthew was having the time of his life at a Philadelphia Eagles Game (GO EAGLES!).

Sharing Is Caring

It wasn't until several nights later that I made the cereal for Matthew, and his reaction was similar to mine – it was one of the best things he had eaten in a while. The next step, which turns hot cereal into cinnamon keto granola was actually his idea. We were about to make a second bowl when he suggested we leave out the cream and hot water and instead bake it in the oven. Genius, I know!!




We increased the amount of maple syrup, added two more kinds of nuts, and opted to give it a cinnamon twist. A couple batches later and we were in business! The recipe can be altered to incorporate different things that better suit your tastes. We used:

The best part about this was that we took an already great keto food and made it more accessible. Now you can take it on the go, eat it dry or treat it like granola cereal!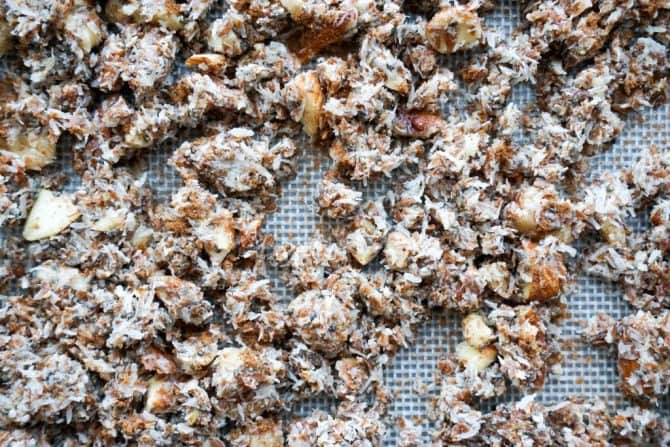 We have a huge bag of it sitting in our cabinet right now and we think it's only right that we share this recipe with you! Whether or not you love granola you will love this recipe, and so will your family. As you can see from the nutrition below it gives actual granola a real run for its money. You get crunch, flavor, quality ingredients and a homemade feel all in one!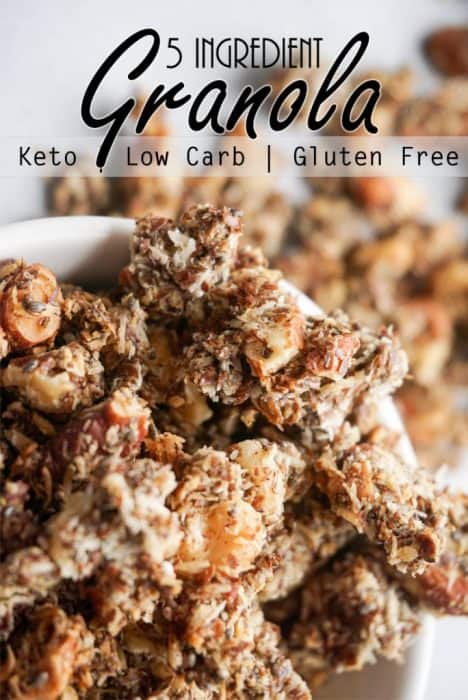 NUTRITION (per serving)

Calories:175cals
Fat:17g
Carbs:11g
Fiber:8g
NET CARBS:3g
Protein:6g

Combine all ingredients thoroughly except for the cinnamon.

Spread out mixture onto a baking sheet to make one layer.

Bake in 350 degree over for 20-22 minutes.

Let rest. Granola will harden as it cools. Enjoy!